Hello and Welcome!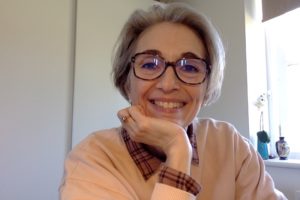 My name is Sandrine and by the sound of it, yes, I am French. A French living in the UK, in Coggeshall, a town in North Essex and teaching mindfulness. Intrigued?
Indeed becoming a mindfulness teacher was not a straightforward journey ! Living in the UK neither!
My background
After completing a degree in marketing and international commerce in France, I spent 20 years in international corporate businesses ( and more specifically in the Information Technology) leading change management initiatives, process redesign & business transformation as well service management for global accounts. During that time, I worked 9 years in Germany before coming back to France. I was managing and interacting with teams in the US, Europe, Eastern Europe, India and Asia.
In parallel to my career and to develop further my management qualities, I followed an extensive training in Non Violent Communication (Marshall Rosenberg) and attended several leadership seminars as well as individual coaching.
How I discovered mindfulness
I had my first contemplative and meditative experiences in the Jordanian desert in 2003. This was followed by several trekking expeditions and Ayurvedic treatments in India, culminating in a 1-year solo world trip (South America, Southeast Asia and Burma) that helped me progress my personal transformation.
In 2013 a friend invited me to attend a mindfulness masterclass. I wanted to know more and I enrolled in the 8-week MBSR programme near my place.
My own experience of mindfulness
Discovering mindfulness and starting to practice at a point where I lost the sense and purpose of my life ( a sabbatical year around the world in solo was great but didn't help!) and took a new senior role at work has been a turning point in my personal and professional life. To name just a few benefits I  found professionally: I feel better equipped to face complex and challenging situations, developed my management and leadership skills, I can stay focused and keep a clear mind despite tough deadlines and heavy workload, I improved my relationships and communication skills. On a more personal level, it helped me coping with some hard times (my flat burned in 2013 and I ended up with no home for 9 months), I better manage my energy and emotions, I better take care of myself and health in general and I clarified what I wanted in life! I have a better Work/Life balance.
What happened next?
It became clear to me that I wanted to share these benefits and help others also experience them. Therefore I made a radical change in my career and decided to become a mindfulness trainer.
I  followed the MBSR teacher training with the Center for Mindfulness (CFM in Medicine, Health Care and Society, University of Masachusetts, Medical School – Jon Kabat Zinn) and attended the Mind & Body Medicine Seminar as well as the Practicum.
In 2015, I decided to deepen my knowledge in neuroscience and teaching practice with a Master in Mindfulness Approaches, Neuroscience and Teaching at Bangor University (Centre for Mindfulness Research and Practice, School of Psychology – North Wales). This offers me a continuous support, reflection on my practice and teaching as well as regular supervision. I just completed successfully my post graduate diploma in July 2019.
I founded the Mindful Workshop and worked with Potential Project for 7 years. I am just on my way to new adventures, stay tuned!
And now?
Today, I work with organisations, teams and individuals to manage cultural and organisational changes, and maximise their performance and well-being by helping them develop the required mindset, supported by the essential skills necessary to succeed in today´s information-overloaded, always-on digital environment: Attention & Focus, Clarity, and Calm. More here
I am passionate about sharing my experience and knowledge to contribute to a better world and workplace, which will result in business leaders regarding well-being and corporate social responsibility as a key part of their strategy.
I also teach mindfulness in 8 weeks (called Mindfulness-based Stress Reduction- MBSR) to public groups or in 1:1 tuition.
What else?
I've been practicing yoga and meditation since 2007. I regularly go on silent meditation retreats and mindfulness seminars in order to deepen my practice.
I live with my English husband. So you know now what brought me in the UK :-). I keep traveling to Paris every week to meet my customers and friends (and do my favourite shopping!)
Reading, going to the movies, cycling and horse riding  are my main hobbies.
Looking forward to meeting you!
Warm regards
Sandrine GOUALLIER
Mob: 07732 060303